Report written by Dessie Brady
U18 All County Minor Championship Quarter Final
Tues 27th August
Mayobridge 4.19 Bredagh 1.07
Our minors are through to a minor championship semi-final after victory this evening against Bredagh.
We started the game well and took a very early lead in the game with good tackling back by Dylan O'Hare forced a defensive error and Dylan was able to shoot to the net. The visitors battled back and scored 4 unanswered points. At half time the teams were separated by only two points at 1.07 to 1.05.
In the second half we stepped up the effort with good distribution from goalkeeper Conor O'Keefe our midfield players Charlie Smyth and Sean O'Hare started to dominate.
In defence Matthew Morgan, Shane Keenan and Thomas Hardy had good games. Dane McNeill and Liam Mathers step up a gear in the 2nd half along with captain Jamie McKay at centre half back.
Up front Liam McManus and Dylan O'Hare worked hard for the team along with Jamie Cahill and Dan Griffin. Adam Crimmins had an influential game and unfortunately picked up an injury, we wish Adam a speedy recovery.
Paddy Donnan, Caolin McPolin and Micheal McKay contributed very well when introduced. James McManus was full of running tonight, both he and Anton White impressed in the second half.
Team, Conor O'Keefe, Dane McNeill, Shane Keenan, Matthew Morgan, Thomas Hardy, Jamie McKay, Liam Mathers, Charlie Smyth, Sean O'Hare, Jamie Cahill, Liam Mc Manus, Dan Griffin, Ollie Grant, Dylan O'Hare, Adam Crimmins, Caoilin McPolin, Anton White, Paddy Donnan, Sean Magone, James McManus, Darragh White, Eoghan Sherry, Jack Gribben, Micheal McKay, Ben McMahon.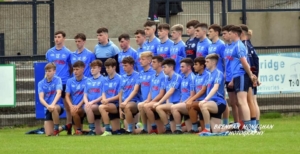 By Carmelita
Thu 29th Aug