Scór na nÓg journey 2020….
Some lovely photos from the South Down Scór na nÓg final yesterday afternoon held at Our Lady's' Grammar School, Newry. A great display of talent and entertainment was enjoyed by all in attendance. Well done to all the competitors and to our prize winners. A huge thank you to all who came out to support the event and to our organisers who yet again have helped deliver a very successful Scór na nÓg competition.
2nd Prize awarded to Set Dancers
1st prize awarded to Ceile Dancers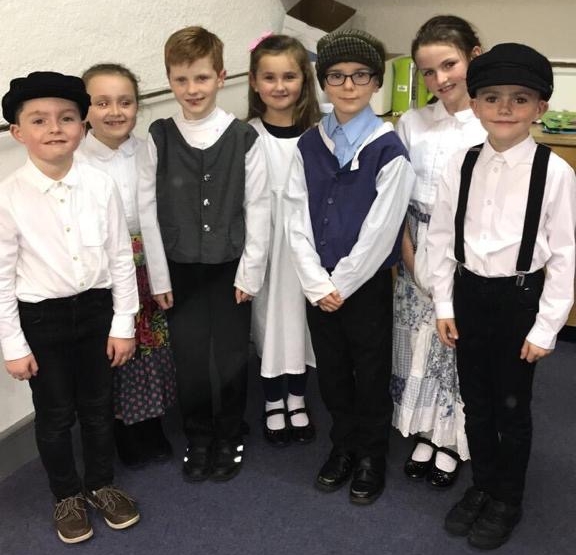 Mayobridge GAA Club now holds a special place in the annals of Scór in County Down with five All-Ireland Scór titles being won by club representatives; four in Scór na nÓg and one in Scór Sinsear, all of them in the past eight years
Three of the titles were won by Jane Rooney with one each by her younger sister Claire and one by the Mayobridge Instrumental Music group.
ALL IRELAND HONOURS
Jane Rooney
(Down champion 2003, 2004, Ulster Champion 2001 All-Ireland Champion 1999, 2002, 2005)
Saturday 20th February 1999 was a very special day in the history of Mayobridge GAC as Jane Rooney won the first of her three national Scór titles with her poem 'The Year 2001' at the All-Ireland decider in the University of Limerick Concert Hall.
Jane had planned to compete in the first South Down round in Longstone as a Solo Singer and because our Recitation representative wasn't going to be available on the night, decided to take part in Recitation as well, learning her piece just the night before. She qualified for the South Down final in second place and went on to the County Final in St Aquinas Hall Dundrum on 12th November, competing in both Recitation and Solo Singing. She won the Recitation; with the singing title going to Danielle Cookson from Glenn, who was Ulster champion in the previous year. (In the years from 1996 until 2002 inclusive, County Down singers won six of the seven Ulster Scór na nÓg singing competitions.)
A year later, in 2000, Jane was back in Scór na nÓg winning the South Down solo singing title for herself with Catherine Donnelly in second place. In the same year she won the South Down recitation title but was defeated in both competitions in the County final. The eventual winner of the County Solo singing competition that year was Hanna Bradley from Saul who went on to win the Ulster Final but was beaten in the All-Ireland.
In 2001 she was County Down champion in Solo Singing and went on to win the Ulster title in Strabane on 27th January but unfortunately, lost out in the All-Ireland in Athlone a month later.
Back again in 2002 she won the South Down, County and Ulster titles and went on to win her first All-Ireland Solo Singing title in Scór na nÓg in Athlone on 16th February.
Jane's performance in the 2001 Solo Singing competition in which she was unfortunate not to win. (Click to play)
She won both the 2003 and 2004 Down Solo Singing titles in Scór na nÓg reaching the Ulster final in 2003 but by then she had reached the stage when she could not take part in Scór na nÓg any longer and so it was Scór Sinsear in 2005. She won the South Down Solo Singing competition at the South Down final in Mayobridge on 13th February and went on to compete in the County final in Saval on 27th. The Ulster semi final was again in Saval on 13th March and from there, Jane went on to compete in the Ulster final in Silverbridge on the following Saturday night. The All-Ireland was held in Killarney that year and Jane, in her first year in Scór Sinsear, won her first senior title and her third Scór All-Ireland
Junior Instrumental Music
(Down champions, 1984, 1999, 2000, 2001, Ulster champions 1984, 2002, 2004, All-Ireland champions 2003)
Mayobridge is renowned for the quality of their young, and some not so young musicians who have brought great honour to the area whether in the St Patrick's Band or in the junior and senior Scór groups who have graced the stages of Ireland representing Mayobridge both near and far away.
The first junior (Scór na nÓg) Instrumental music group to make the breakthrough was in 1984 when Dolores O'Hare, Eileen and Peter Magee became Ulster champions at the Ulster Scór na nÓg final in Omagh and competed in the All-Ireland final in a snowy Cork City in February.
We had to wait several years for the next breakthrough which came at the tail end of 1997 when Mayobridge were beaten in the 1998 South Down final by Glenn in Drumantine, but the promise was there of better days to come. In 1999, Mayobridge won the South Down final and went on to win the first of their six county titles in a row, but in the 2001 South Down final, although beaten into second place by Rostrevor, the Bridge youngsters went on to win the county title and reached the Ulster final in Strabane on the day when Jane Rooney won her first Ulster singing title.
In 2002 they went on to win County Down and Ulster titles and along with Jane, competed in the All-Ireland final in Athlone. On that day the five young musicians, Darren and Donna Magee, Austin and Catherine Donnelly and James Gorman put on a fantastic display of music but rather unfortunately lost out to Buttevant from Cork in a split adjudication from the four adjudicators.
The Mayobridge Instrumental music group in action in the 2002 All Ireland Final (Click above to play)
The Ulster title was won again in 2003; Silverbridge being the venue, but this time the group was reduced to four with Declan Magee in place of Austin and Catherine. We all headed for Athlone on 15th February and at last the Mayobridge youngsters won their well-deserved title that they missed by the skin of their teeth a year earlier.
In 2004 the Bridge were Ulster champions once again; but this time they were reduced to three, Darren Magee having reached the age of seventeen, the cut-off point for Scór na nÓg, but the group ran up against tough opposition in the All-Ireland.
By 2005, Castlewellan were county champions and the present era of Mayobridge dominance in Scór na nÓg had come to an end.
Presently, music classes are held weekly in the Community Centre and with the crop of young musicians coming from there and the obvious talented youngsters from the Bridge who attend Comhaltas classes in Warrenpoint, it mightn't be long before there's a resurgence of the music in the club at that age.
Claire Rooney
(Down champion 2004, 2005 x 2; Ulster champion 2003, 2006 x 2; All-Ireland champion 2007)
Claire is Jane's younger sister and has distinguished herself in Scór na nÓg since she first competed as part of a Ballad group some years ago.
In 2002, she competed in the Recitation competition but failed to reach the County final, the competition being won by Sean Downey of Clonduff.
In 2003, she was well prepared for the Recitation competition. Her mother Thérèse had written a poem entitled 'Sam's Prayer' about the Sam Maguire cup and the possibility of it 'maybe' coming back to County Down in the very near future. Claire reached the All-Ireland with the 'prayer', by way of Mayobridge, Dundrum, Saval and Silverbridge where she met another young competitor, young Clare McDermott from Cavan.
We thought that with Claire and Sam and the Instrumental Music Group we should have been celebrating a double All-Ireland that day in Athlone but alas, we had to be content with the one won by our musicians.
Claire won two more county titles in Recitation in 2004 and in 2005 she doubled up with the Singing title as well, a truly unique achievement for someone competing in solo events.
In the 2004 Ulster final she lost out to Clare McDermott from Cornafean in Cavan who went on to win the All-Ireland, and in 2005 in the Ulster Final in Scotstown, she was clean robbed in the Solo Singing competition, when the 'winner' forgot her words and sang one of the verses twice, without seemingly, the adjudicators catching on.
In 2006 Claire went on to win Ulster titles in both the Solo Singing and Recitation competitions, with a song; 'The Green Linnet,' a ballad of the Irish in the Napoleonic wars, probably never sang in Scór before, and 'An Extract from Angela's Ashes', in the Recitation. Before she came on in the Recitation section, the Feár a Tí remarked that it was a great honour for any solo competitor to represent their club at any time in an all-Ireland, and as far as he was aware, Claire in representing her club in two different competitions just half an hour apart in a National competition, a truly unique achievement.
Claire taking part in Solo Singing 2006 All-Ireland.
To the surprise of many in the audience, Claire, and the many County Down and Ulster supporters in the audience who felt that Claire was a very strong contender in both disciplines were disappointed in that she didn't win at least one of the competitions. However, Claire took it sportingly and when Jarlath Burns, who was then the National Scór chairman was offering his consolations, Claire commented quietly that she'd "just have to try again next year".
The 2007 Scór season started in November of 2006 with Claire, in her last year in Scór na nÓg, being surprisingly knocked out of the Solo Singing competition at the South Down final in Warrenpoint. With an updated version of 'Sam's Prayer' the 2003 poem written by her mother, she won the County Recitation competition in Castlewellan and progressed to the Ulster semi-final in Glengormley on 2nd December. From there she qualified for the Ulster final in Silverbridge on 20th January where she retained her Ulster title.
The All-Ireland was held once more in Athlone on 17th February and there Claire swept the boards with her 'Sam's Prayer' against opposition from the other three provinces.
RECITATION
Ulster Titles Scór Sinsear 1978; Scór na nÓg 1999, 2003, 2006, 2007
County Titles Scór Sinsear 1978, 1986, 1998, 1999. Scór na nÓg 1999, 2003, 2004, 2005, 2006, 2007.
Other than Jane and Claire Rooney, Paddy Duffy is the only other Mayobridge representative to win either a County or an Ulster title in Recitation. Paddy reached the All-Ireland final in Dublin's National Stadium in 1978 with 'Seaneen' in the same year as Rostrevor's Ballad group and St Michael's Novelty Act were Ulster champions.
Paddy has been a consistently good performer in Scór and has also taken part in Novelty Acts and Ballad Groups in the 1970's
COUNTY TITLES
(Novelty Act) County Titles 1981
Mayobridge won its only county title in Novelty Act in 1981 with three budding stars of the stage, Finola Fegan, Eileen Grant and Paul McPolin taking part in a sketch produced by the late Willie Magee. In the sketch, entitled 'The Cookery Lesson' Paul was making bread according to a recipe he heard on the radio.
It was one of the funniest novelty acts I've ever seen and I've been going to Scór for a very long time. The entertainment wasn't so much from the script, but from the exceptional acting skills of the three participants, especially Paul. So popular was the sketch that for a long time afterwards, the trio were asked to perform it at socials and various fund raising events throughout the county.
The club has had a number of Novelty acts in later years but none of them enjoyed the success of 1981. Runners up in South Down Scór Sinsear in 1983 and a South Down win in 1995.
Ballad Groups
County Titles
(Scór na nÓg 1984, 1986, 1990) (Scór Sinsear 1987, 1994, 2002)
A year after Carryduff won Down's one and only Ballad Group All-Ireland title, Mayobridge Scór na nÓg Ballad Group and Instrumental Musicians contested the Ulster finals held that year in the Knock na Moe Hotel in Omagh. The eventual winners that day were Carrickcruppen who went on, along with Mayobridge Instrumental musicians to compete in the All-Ireland finals in Cork.
The last Ballad Group to win a County title was the senior group in 2002, coached and trained by Jane Rooney, then only fourteen years old. Claire helped to coach the last senior group.
1994 Down winners
2002 Down winners
Solo Singing
County Titles
Scór na nÓg 2001, 2002, 2003, 2004, 2005, 2006, Scór Sinsear 1987, 2005
The first county Solo singing title to come to the 'Bridge was in 1987 when Edel Moley won the title and went on to compete in the Ulster final in Coalisland. We had to wait until 2005 for our next title won by Jane Rooney who went on to win the All-Ireland. From 2001 until 2006, the Rooney sisters, Jane and Claire dominated the competition. Since 1970, other Mayobridge singers, such as Eunice Fegan, Tracy Sands etc, won several South Down titles.
Quiz
It is only in the last few years that Mayobridge has had any success in Quiz competitions in Scór. The club had to wait until 2004 before we won a South Down title, runners up in South Down in 2005, the Mayobridge team pulled out all the stops won its first ever county quiz title in 2005, beating old rivals Clonduff in the final. Since then, although we've pipped our near rivals in the 2007 South Down decider, Clonduff has retained both the 2006 and 2007 Scór Sinsear county titles. Our present Scór Sinsear quiz team consists of Peter Magee, Aidan Mallon and Sean Magone who won the South Down title again in 2008 but were overtaken by neighbours Clonduff who went on to win the County final.
In Scór na nÓg, thanks to the efforts of Peter & Paula Magee, our Scór na nÓg quiz team has been showing promise in later years. Our first Scór na nÓg Quiz success was in 1984 but we had to wait until 1998 until we had another quiz team in a county final. The next county final appearance was in 2006 with the present trio of Cormac Linden, Séamus McGeough and Brendan Rooney. They reached the County final in 2007 and again in 2008 but so far have to make the big breakthrough.
Ceili & Set Dancing
Ceili and Set Dancing are the Cinderella Scór competitors in Mayobridge. Despite the efforts of the various Ceili and Set Dancing teams over the years, the clubs only limited success was in 2000 when our Scór na Sinsear Ceili team were runners up in South Down.
1994 CCD Set Dancing All Ireland Finalists, Jacqueline Butterfield, Michelle Goss, Marion Donnelly, Goretti Gallagher, Bernadette Annett, Peter Magee, Niall Brady & Paul Butterfield.
Instrumental Music County Titles
Scór Sinsear 1989, 1990, 1991, 1996, 1997, 1999, 2000, 2001, 2002, 2003, 2005, 2006, 2007.
Scór na nÓg 1999, 2000, 2001, 2002, 2003, 2004.
Up until a couple of years ago Mayobridge dominated the Instrumental Music scene in Scór na nÓg. Now it's the turn of Clonduff and the East Down clubs like Castlewellan coming to the fore it may be a while before the 'Bridge gets back to the glory days.
In Scór Sinsear, our musicians have been good enough to reach eight Ulster finals and a few times, should perhaps have progressed to a National final.