Mayobridge Club Notes Sunday 26th January 2020
Mayobridge GAC held their Annual Underage Presentations earlier this evening. Teams from U6-U16 in both Gaelic and Camogie received awards for the past season 2019. We were honoured to have both Cory Quinn, Down Senior footballer and Senior Club player together with Orlagh Caldwell, Down Senior Camogie player and Club player on hand tonight to present the medals and individual awards to all our Underage Club Players. Thank you, Cory and Orlagh,
Darren Rooney also spoke about the success of the Irish Summer Scheme held at our Club during the summer and he presented the inaugural award to most promising Irish speaker at the Summer Scheme 2019.
A huge thank you to Desi Kennedy who officiated as our MC for this evening. Our Chairperson Mairead Rooney congratulated all our Underage Players and thanked all their Mentors, Coaches and Volunteers who helped out in anyway this season with their respective teams during the year. We look ahead to the 2020 season and hope it will be another great year for all our Underage Players and Club.
🔵⚪️Underage Awards 2019🔵⚪️
U12 LGFA
Player of the Year: Alannah Cunningham
Sporting Player of the Year: Zara Greenan
U14 LGFA
Player of the Year: Cara Crimmins
Sporting Player of the Year: Amy Murney
U16 LGFA
Player of the Year: Leah O'Hare
Sporting Player of the Year: Ciara Byrne
'A' League Winners medals presented to Droichead Pointe by Audrey Greenan LGFA Manager
U12 Camogie
Player of the Year: Aislinn Rooney
Sporting Player of the Year: Alene Butterfield
U14 Camogie
Player of the Year: Cara Crimmins
Sporting Player of the Year: Cliona Gordon
U16 Camogie
Player of the Year: Grace Cunningham
Sporting Player of the Year: Laura Greenan
U12 Boys Football – Gaels
Player of the Year: James Keenan
Sporting Player of the Year: Oliver de Rose
U12 Boys Football – OGS
Player of the Year: Dylan Sexton
Sporting Player of the Year: Noel O'Hare who was presented with the Daniel Grant trophy by Paula Grant 🏆
U14 Boys Football
Player of the Year: Brian Grant
Sporting Player of the Year: Conor Keenan
U16 Boys Football
Player of the Year: Oisin Magone
Sporting Player of the Year: Jack Gribben
Irish Summer Scheme Award 2019:
Ciaran Gallagher
Pictured below Ciaran Gallagher receives his award for Most Improved Irish Speaker at the Irish Summer Scheme 2019;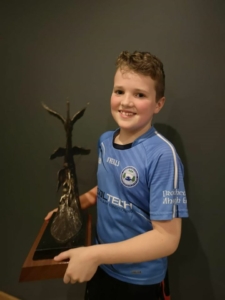 Orlagh Caldwell Down Senior and Club Camogie player presents Cara Crimmins who was awarded U14 LGFA Player of the Year and U14 Camogie Player of the Year!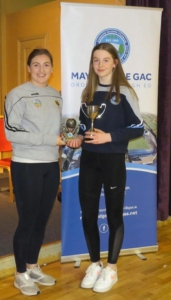 U16 LGFA/Camogie season begins this Thursday 6-7pm gym-based sessions, however, please bring boots also.
Congratulations to our young club ladies Aoibheann Woods, Mollie Smyth, Shannon and Johnelle Barr, Grace McShane, Grace Cunningham, Ella Gribben, Aine Magee, Laura Greenan and Emily Fitzpatrick who represented the Sacred Heart Grammar School on Tuesday when they crowned U20 Camogie Ulster Champions in the schools Senior Medallion Shield Final against St Colm's, Draperstown. Final result 2.09-2.07.
Scór Sinsear 2020 🎻🪕🎼
We invite anyone wishing to take part in one or more of the 8 disciplines within Scór Sinsear which begins early February 2020 to please give your names to Gerard Keenan 07925 008726 or Thomas O'Hare 07513 584194 by this Friday 24th January. Thank you.
8 Disciplines within Scór;
Figure/Céilí Dancing, Solo Singing, Ballad Group, Recitation/Scéalaíocht, Léiriú Stáitse/Stage Presentation, Instrumental Music, Set Dancing and Table Quiz.
There was NO winner of this week's Jackpot. The numbers were 3,13,14 and 28. There were 11 Match Three winners; Aileen Smith (O'Hares Eurospar), Martin McClelland ( O'Hares, Vivo), Michael Walsh (Michael Walsh), Carmelita Moley (Kate Cunningham), Kate Lee (Klubfunder), Josephine McAleenan (Ferghal Quinn), Aveen Morgan (House Draw), Joe McDonald (House Draw), Jarlath Magee (House Draw), Sean Pyers ( House Draw), Mark Linden (Mark Linden. Promoters' Draw Winner: Gorman's Bar. Jackpot now £10,800.