Mayobridge GAC Executive Committee 2020
Congratulations to all the New & Existing Committee Members for 2020! We wish them great success in their new positions and the Club and Committee are looking forward to another successful year at Mayobridge GAC.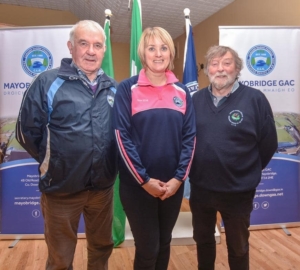 L to R: President Tom O'Hare, Chairperson Mairead Rooney, Vice President Johnny McConville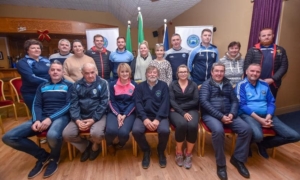 L to R: Joanne Hardy Registrar, Tim Colhoun Coaching Officer, Marie Sherry Additional Officer, Darren Rooney Irish Cultural Officer, Kevin McClorey Additional Officer, Martina Rooney Coaching Officer, Carmelita McCoy P.R.O, Gerard Keenan Vice Chairman & Cultural Officer, Cathal Killen Players Male Rep, Ann Fitzpatrick Children's Officer, Benny Coulter Additional Officer, Thomas O'Hare Secretary, Tom O'Hare President, Mairead Rooney Chairperson, Johnny McConville Vice President, Maria Carroll Treasurer, Sean Rooney Insurance Officer,
Thomas Coulter County Board Rep
Not present: Rosemary Magee Assistant Treasurer, Declan Mason Registrar, Ciaran Magennis School Liaison Officer, Paula Magee County Board Rep, Eoghan Woods Coaching Officer, Sean McElroy Health & Well-being Officer.