Mayobridge Club Notes Sunday 4th August 2019
MAYOBRIDGE NOTES
Mayobridge U-14 footballers played their final home league game of the season in front of a great crowd on Monday evening last and treated their supporters to a huge win over Drumaclone (Drumgath/Annaclone). From the start, the Bridge boys were in flying form and racked up the goals and points throughout the first half to lead by a very healthy 5-12 to 1-4 at half time.
The second half continued in a similar vein, with the Bridge playing some great attacking football and finished up with a big win. Final score: 11-16 to 1-10
Team and Scorers:
Conor Pollard, Ryan Magee, Arann Trotter, Peter Little, Conor Keenan, Shan Hillen, Conor Colhoun, Danny Cunningham (1-3), Senan Magone (1-0), Daniel McMahon, Tristan Downey(0-2), Daire O'Keeffe (2-2), Brian Grant(1-3), Cory Clerkin (4-1), Patrick Woods (0-2), Ciaran McPolin, Aaron Doyle, Ben Kelly (0-1), Keith Rice (1-1), Ryan Cahill, Michael Gallagher, Cory Magone (1-0), Pierce Cuthbert, Darragh Poland (0-1)
Mayobridge Seniors were defeated by Kilcoo on Friday evening past in Kilcoo.
Final Score Kilcoo 1-20 Mayobridge 2-8
Our U12 Camogs had an early start on Saturday morning as they travelled to the Tyrone GAA Garvaghey Centre to take part in Camán to Ulster. This is where a selection of teams participate in the Camogie Association's annual U12 participation blitz. There was a great buzz with over 600 girls from 35 clubs taking part. It was a great experience for the girls as they lined out against teams from Omagh, Cushendall and Greenlough, they did themselves and the our Club proud. Our head coach Orlagh couldn't travel with us as she was enjoying Downs winning streak in Newry. Thanks to referee Veronica and the parents who came to support the girls.
U12 Camogs pictured below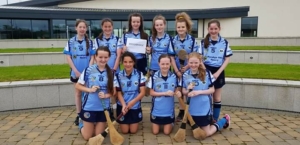 Mayobridge under 8 and under 10 girls attended a blitz at Burren this morning. The girls defended and attacked brilliantly. Great blocking, hand passing and support running resulted in some excellent scores.
The girls are improving all the time and the effort in each match was fantastic. Thanks to all the families who were able to come and support the girls.
Pictured below our U8's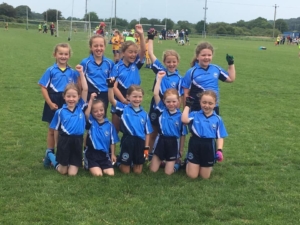 Congratulations to our Club members Martina, Marie, Orlagh, Kora and Charlene who represented Down Senior Camogie on Saturday and now march into the All Ireland Semi Final. Final Score Down 7-27 Wexford 1.-07. Well done Ladies.
Congratulations to our own Jordan Magee and her Australia team on winning the World Games GAA final in Croke Park on Friday past. See Jordan pictured below with the winning cup!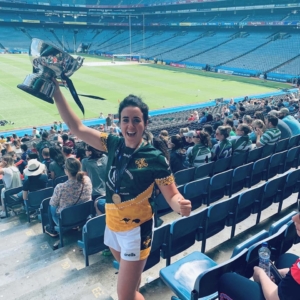 Lotto numbers for Monday 29th July were: 5, 17, 26, and 32. No jackpot winner. Four match 3 winners, Seamus Grant (Seamus Grant), Karen O'Hare (Karen O'Hare), Gertie McCartan (Eamon Brady), Thomas O'Hare (Thomas O'Hare). Jackpot now £15,300.
Promoters Prize Winner: Conor Garvey.