Mayobridge Club Notes Sunday 28th July 2019
                                          MAYOBRIDGE NOTES 
Mayobridge senior team suffered an agonising one point defeat at the hands of visitors Loughinisland on Friday evening, the final score line reading 2-14 to 2-13. This was a very closely fought contest the whole way through and the Bridge had two late chances to at least square the match but both were wasted.
Mayobridge team and scorers: Shealan Strain, Connor Fitzpatrick, Shane McNamee, Lee Quinn, Kevin McClorey, Reece Martin, Shane Annett (0-1), Shane O'Hare, Conor Garvey (0-1), Caolan Gallagher(0-1), Kevin O'Rourke (0-2), Conleth O'Hare (0-1), Cory Quinn (2-6), Cathal Magee, Adrian Barry (0-1).
Subs: Darren Fegan, Shane Smyth, Conaill Gallagher.
Next up for the Bridge is a visit to Kilcoo on Friday evening.
The Mayobridge U14 football team returned to league action on Monday last and recorded a fine win over Atticall, 3-15 to 4-7. Playing against a strong wind in the first half, the Bridge struggled to get in to the game and trailed by three points mid-way through the half. Gradually the Sky Blues began to find their feet and at the break they only a point separated the sides
Atticall started strongly in the second half and stunned the home team with a goal in the first minute. This appeared to shake the Bridge boys in to action and for the next 25 minutes they dominated all over the field scoring 2-11 and conceding only 2 points. Two late goals from Atticall brought the score line closer but the Sky Blues closed out the game for a deserved win.
Mayobridge team and scorers: Conor Pollard, Ciaran McPolin, Arann Trotter, Paddy Clyde, Conor Keenan, Shan Hillen, Conor Colhoun, Danny Cunningham (0-6), Senan Magone (0-2), Daniel McMahon (0-2), Tristan Downey, Daire O'Keeffe (0-1), Ben Kelly (1-0), Cory Clerkin (1-0), Patrick Woods (1-4), Aaron Doyle, Keith Rice, Ryan Magee, Peter Little, Darragh Poland , Ryan Cahill, Michael Gallagher, Cory Magone, Pierce Cuthbert
Mayobridge had two teams crowned Ulster champions at Fleadh Uladh in Castlewellan last week and two teams awarded third place. Well done to all and to Nicole and Eimear. The successful teams are pictured below.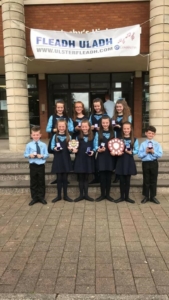 Congratulations to the Mayobridge Camogie team who won the league title on Wednesday evening in Atticall. Well done Ladies. Final Score Mayobridge 10-22 to Atticall 1-4.
Mayobridge reserve team progressed to the next round of the Down Premier Reserve Championship with a narrow two point win over hosts Carryduff on Saturday evening 3-10 to 2-11. Not to be undone the Thirds also made it through in the Down Reserve Championship with a 3-16 to 2-7 victory over Drumaness at the Bridge on Sunday afternoon. Well done to both teams.Best wishes to Jordan Magee who is representing Australia in the GAA World Games. Jordan is one of 13 outstanding players travelling to play in Waterford during this week. Jordan has already had a distinguished career with Mayobridge and Down, the highlight being winning an All Ireland title in 2014.
It's fantastic to see that she has continued this form Down Under with her adopted club, Cormac McAnallens. Good luck to Jordan and her teammates. All in Mayobridge will be supporting you
Lotto numbers for Monday 22nd July were: 8, 10, 16, 18. No winner of the jackpot of £15,100. Ten match 3 winners, Aimee-Leigh Carroll (O'Hare's Eurospar), Tracey McKeown (O'Hare's Eurospar), Ruth England (O'Hare's Eurospar), Paddy Mageean (Klubfunder), Declan Mason (Klubfunder), Catherine O'Neill (Klubfunder), Maria Mullen (Klubfunder), Aidan McAleavey (Niall Brady), Liam Barry Jnr (Adrian Barry), Pat Fegan (Gerry Dunbar). Jackpot now £15,200.
Promoters Draw Winner: Sean Rooney.